I decided to take advantage of one of the last nice days of this year, and take some shots at
McAdam
. Peter Gough accompanied me and my two youngest kids. We left Fredericton at about 11:45 and I was hoping to catch the NB Southern eastbound before it arrived at McAdam. I called my contact and he told me they had a small pickup at Mattawamkeag, so they wouldn't be into McAdam until about 13:45. Perfect.
We did a quick check at the McAdam yard, and found a big surprise - MEC 320. This unit was returning to Woodland, ME via the St. Stephen sub. Apparently about once a month Guilford exchanges the unit there for another one.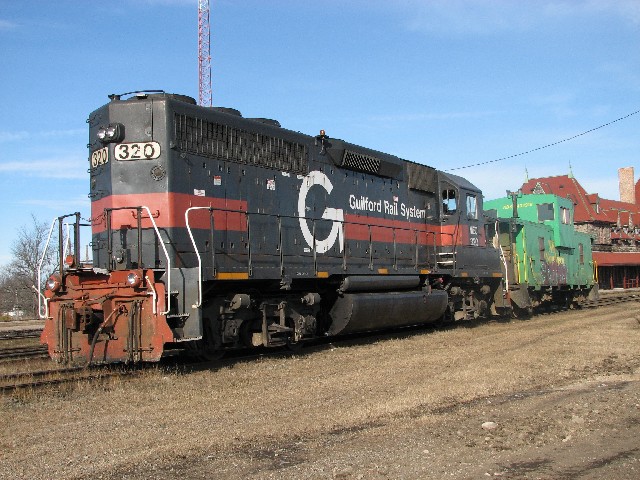 We also saw these odd loads.
These are going to Vanceboro and are likely part of the
International Power Line
being built between New Brunswick and Maine by NB Power and Bangor Hydro.
These loads are separated by spacer flatcars, as the poles are longer than the flatcars. I don't know about the Maine side, but on the New Brunswick side many of the transmission towers are going to be erected laying on their side, then flown by heavy-lift helicopter to the site. This will avoid the need to build roads and therefore reduce environmental damage.
We decided to set up at St. Croix and wait for the eastbound. When we arrived there, we could hear the rumble of engines but it was not getting closer. We set up and waited, and finally the NB Southern eastbound came into view at about 13:25.
NB Southern 2319, 9801, 2318, 9802 and 2317 led 37 cars, mostly boxcars and autoracks.
I just liked the graffiti on this boxcar.
We passed the train on the way back to McAdam and I shot him coming into the station, but the light was poor. They did a quick drop and started rolling by 13:55. We drove through the back of the yard to try to get ahead of them for Harvey, when I noticed the train had stopped.
It turns out they hit an ATV. The ATV had become stuck on the track adjacent to the mainline, and when the driver freed the vehicle, she drove across the main line without looking. The NBSR crew put the train into emergency and grazed the ATV, spinning it around. Fortunately, the driver was not injured and the ATV was on its way in minutes. ATVs are a major problem in McAdam.
Back on the road, we decided to shoot the train at Harvey Lake. I had never tried this shot, and in fact didn't even know how to get there. Peter drove and we set up. The train rolled through at 14:40 with 27 cars. I shot video primarly, and blindly shot my still camera - shooting only water. Here's the train going around the bend, once I finally looked at what I was shooting at.
Another great trip.